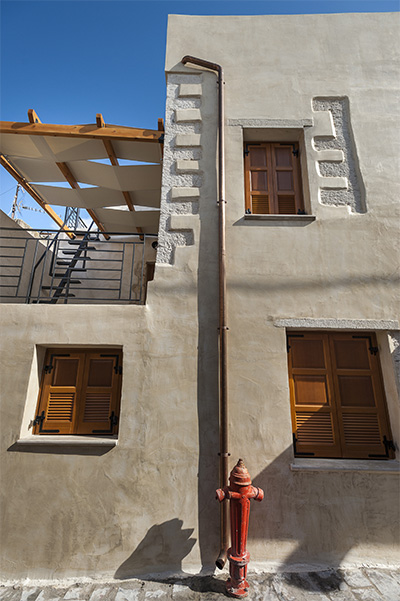 Casa di Gouto is a Venetian house with oriental influences, located in the walled Old Venetian Town of Chania. The building was restored on February, 2016 with attention to every detail revealing its original and historical value. Fedra and Amaltheia, it's luxury apartments, are both fully furnished and fully equipped, offering pleasure and comfort to visitors.


A fascinating time travel for your senses will magically begin, as tradition coexists in harmony with modern touch.
Casa di Gouto is located in Splantzia district, in the northeast of the old town of Chania. Splantzia originates in the 15th century, when middle class Venetians settled there and named the district 'plaggia', meaning plaza. During the Turkish rule the district was renamed to "Hunkiar Meintan" (imperial plaza) and used to be a gathering point for Muslims, likewise the district Sintrivani was for the Christians. Today its formal name is "1821 Square".
It is placed between the streets Daskalogiani and Minoos, close to St Nicolas Church. The Venetian church has been a part of the monastery of Dominican monks and transformed later into the city's central mosque, in honor of Sultan Ibrahim. In 1919, the "Hiougar Tzamissi" which means "Mosque of the Ruler," converted into the Orthodox Church of Agios Nikolaos, but retains intensively the signs of the Turkish architecture, due to its imposing minaret standing on the corner of the church's facade.
On the north western side of the Square, the Venetian temple of St. Rocco (1630), stands unaffected by the Ottoman Empire, in the center of the square you can have a coffee stopover enjoying the shade of a huge plane tree. During the Greek Revolution of 1821 the Bishop of Kissamos, Melchisedek Despotakis and deacon Callinicos were both hanged by this plane tree, by the Turks.